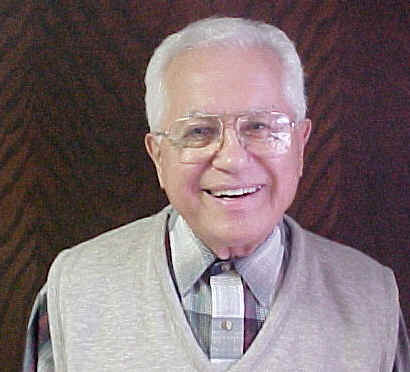 It is an honor to be a part of this liturgy and I thank you, Fr. Mannion, Fr. Schwab and Deacon Jim for the privilege.

My journey of faith began when I was 2 years old in the hospital with a severe case of pneumonia. The doctors gave up on me. They told my mother to take me home to die. While at home, my mother, a believer in prayer, prayed for days and hours -- the Rosary, prayer cards--the whole bit. Well .... God granted her plea, I survived. My journey in faith had a head start .... it was a good omen.

Being an altar boy in grade school was considered a reward which included dusting the statues, the altar, and the Communion Rail (Remember the covered rail?). My tough little 8th grade nun thought my older brother was a super guy, but when she asked me to be a server while in high school, I turned her down. She became upset and said, "Your brother would never do that!" She didn't know, it was my brother's advice not to get up early, serve Mass, and rush off to school.

My journey continued through high school at DePaul Academy, and away to college, and then my tours overseas in the service. It was in the military that I overworked the power of prayer. God's presence must have shadowed me through 2 wars. To this day, my thoughts flash back to the many times my life has been spared.

During the late 60's I must admit I experienced a challenge to my faith. It took a while to understand and accept the many changes in the Church. But getting involved with

strong faith and commitment helped to attain compatability and understanding. My wife and daughters continue their love of God and his infinite message. And we have not forgotten the many blessings he has so willingly granted us through the years. We thank Him every day

Our Lady of Hope has been a source of help and support. When my wife and I became members here, we found hospitality, friendliness, and acceptance. When someone would say "Hello", it was like they had known you for twenty years, and our volunteer activities have created a bond of friendship that will last forever because it comes from our heart. Most importantly, we feel a closeness to God here in the celebration of our Liturgy.

One of my older remaining brothers passed away over 2 years ago and during his last days of life, he took my hand to say, "Thank you for being my brother.,, I will never forget that. So now I say..... Thank You, Our Lady of Hope, for your being my brother.

Guy Porcaro
When Father Mannion asked me to witness my faith, since I am a very literal person, I went to the dictionary to fin the definition of "witness"," and to the Bible to find "faith"":
Witness: knowledge, evidence, testimony; someone who can give a firsthand account of something. (Webster)
Faith: Being sure of what we hope for and certain of what we do not see. (Hebrews 11: 1)
I am now going to give you my firsthand account of something I am sure of, that I hope for, and something I am certain of, that I do not see.
I am certain that God sent his only son, Jesus, to live fully as a human being, yet also fully God and therefore sinless. I am certain that Jesus was crucified on a cross so that by believing in him, my sins would be forgiven. I am certain that I have received the gift of the Holy Spirit, sent to me from God to live within me, waiting to guide and direct me whenever I call on Him. I am sure that by believing in the resurrection of Jesus Christ that I will have eternal life.
This is what my faith means to me, and now I will tell you how Our Lady of Hope parish has played an important part in my journey of faith.
My husband Jim and I have attended Our Lady of Hope for the past twenty years. We began coming here when we were both single and living next door to each other in Rosemont. We were later married here, I went through the RCIA program, all four of our children were baptized here and received many of their sacraments. As parishioners here, we have shared our lives with God and with all of you in times of happiness, sadness, birth, death, moving into new homes, watching our children grow, times of joy, and times of fear. This parish is like our second home, our second family; we have felt loved, cared for, and uplifted by all of you. We have seen firsthand in this parish people who love God with all their hearts, souls, and minds, and who love their neighbors as themselves.
I have grown as a Christian through my involvement in our parish. I have seen Jesus through the eyes of the children in Religious Education; I have been privileged to study, meditate, and proclaim the Word of God as a lector, and for the past year have been a Minister of Care. Every week, about ten of us visit members of our parish who are sick, homebound, or for other reasons are not able to come to Sunday Mass. This ministry has helped strengthen my faith as I listen to, converse with, and pray for others. I have listened to the stories of their lives, and have seen people, who despite hardships in their lives, have remained faithful, committed Christian Catholics, These individuals, who have faced sickness, loss, loneliness, and seemingly hopeless situations, have powerful faith that keeps them going. As I share conversation, fellowship, and the Holy Eucharist with these people, I feel that I am the one who is abundantly blessed by our visits. When I hear about the strength of character and the hope these people have, it gives me a broader perspective on my life; how my little daily crises are so insignificant, and just how blessed I am. God gives strength, perseverance, peace, and hope to all those who call on Him, and God's powerful love is lavished on those who are faithful to Him. I have also seen a living example of the early Christians in the other Ministers of Care. Although we all come from different backgrounds, have different personalities, and possess different gifts, we all come together as one Body of Christ, in one heart and mind.
I still have a long way to go in my journey of faith. Although I continually try to follow God more closely, be more Christ-like, a more loving wife and patient mother, I always seem to fall back into my old, sinful, human ways. Those are the times when I must rely on my faith: I need to cling to God's promises; to seek God's perspective; to stay near God's people; to remember God's past care for me; to trust in God's perfect plan; to come to God in prayer, and to rest in God's presence.
Carol Gonzalez